If you or a loved one was injured in a distracted driving collision, contact a Chicago distracted driving accident lawyer today to explore your legal options for compensation.
As amazing technological advancements in recent years have enabled people to remain constantly connected to other people and places on personal electronic devices, distracted driving has evolved and has become a matter of incredible concern. Law enforcement agencies, various organizations, and advocates throughout the nation have seen the devastating results that distracted driving creates and have made significant efforts to spread the word about the dangers of driver distraction.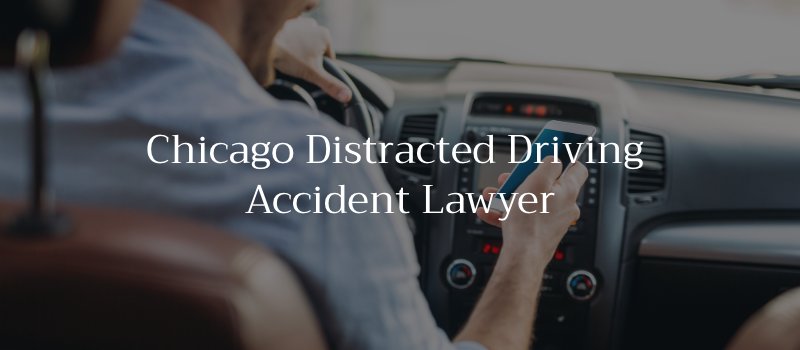 What Is Distracted Driving?
Distracted driving can take many different forms. According to the National Highway Traffic Safety Administration (NHSTA), driver distraction can be anything that diverts a motorist's attention away from the primary task of driving his or her vehicle.
Examples of Distracted Driving Behaviors
Some of the most common examples include:
Texting while driving
Using a cell phone or other handheld device
Adjusting the radio or console controls
Eating and drinking
Reading, including maps and navigation systems
Watching a video
Personal grooming
Talking to passengers
Statistics compiled by the NHTSA indicate that in 2011 alone, more than 3,300 Americans were killed and more than 387,000 injured in distracted driving crashes. These alarming numbers have prompted the NHSTA and other advocacy and safety groups to refer to driver distraction as a national epidemic.
These groups have partnered with law enforcement agencies and state legislatures to increase awareness, promote education, and enforce new laws. Like these organizations, we at Duncan Law Group believe that irresponsible drivers should be held accountable for the damages they cause. Our Chicago auto accident attorneys are dedicated to helping those who need to file a car accident lawsuit in Chicago, IL. Let us put this commitment to work in your auto collision claim so that you can seek the restitution you deserve.
What Types of Compensation Can I Recover After a Distracted Driving Accident?
If you suffered injuries or noneconomic damages because of a distracted driver, you may need to file a car accident claim. With the assistance of one of our Chicago personal injury attorneys at Duncan Law Group, injured victims and their families can find the support and representation they need to hold negligent drivers accountable.
We can help you seek restitution for the following:
Physical injury
Cost of therapy and medication
Emotional suffering
Loss of income
Knowing that victims face tremendous hurdles and burdens in the wake of tragedy, the firm can take every measure to secure full and fair compensation on your behalf. Work with an experienced distracted driving accident lawyer to ensure that you make full use of your rights after a serious collision. Securing a seasoned professional can be the turning point in your case as you work toward an effective recovery.
Distracted Driving and State Law
While state law does not prohibit most forms of distracted driving, it does place a strong emphasis on limiting the use of cell phones and other handheld devices while driving. All drivers are prohibited from using handheld devices to talk or text while operating a vehicle. Additionally, hands-free free devices cannot be used by novice drivers, bus drivers, and anyone in a school or construction zone. These laws play a significant role in promoting safe driving habits and often determine the outcome of distracted driving cases.
Contact a Chicago Distracted Driving Accident Attorney
Filing a personal injury claim is probably a new experience for you—you may feel intimidated or overwhelmed at the possibility of a lawsuit or insurance claim. If you have questions about your case or want to hire a car accident lawyer, Duncan Law Group can help you understand your legal rights and options as a resident of Chicago.
If you have been injured in an auto accident caused by a distracted driver, place your trust and your well-being in the hands of a proven lawyer. Duncan Law Group has guided numerous victims and families through the personal injury claim process and has successfully secured millions of dollars in compensation on their behalf. Our experience, legal abilities, and sincere compassion can make all the difference in obtaining the outcome you need and deserve.
Looking for a distracted driving accident lawyer in Chicago, Illinois? Call our firm today to learn more about your legal rights and options!