If you suffered serious injuries or the loss of a family member in an avoidable accident, you may be entitled to compensation through a personal injury claim or lawsuit with the help of a Chicago personal injury lawyer. In most cases, you can seek damages to cover monetary and non-economic damages from the negligent party's insurance company; however, insurance companies aren't always willing to pay. Chicago personal injury attorney Robert Duncan and Duncan Law Group are dedicated to helping accident victims and their families throughout Chicago recover the money they deserve.
That being said, it may be in your best interest to speak with the dedicated legal team at Duncan Law Group as soon as you have been injured. Don't let expensive medical bills get in the way of your recovery. When you have been injured, don't delay. Get help from a Chicago injury attorney at Duncan Law Group in a free consultation. Our Chicago law firm has extensive experience and amazing results when it comes to all personal injury claims in the Chicago area.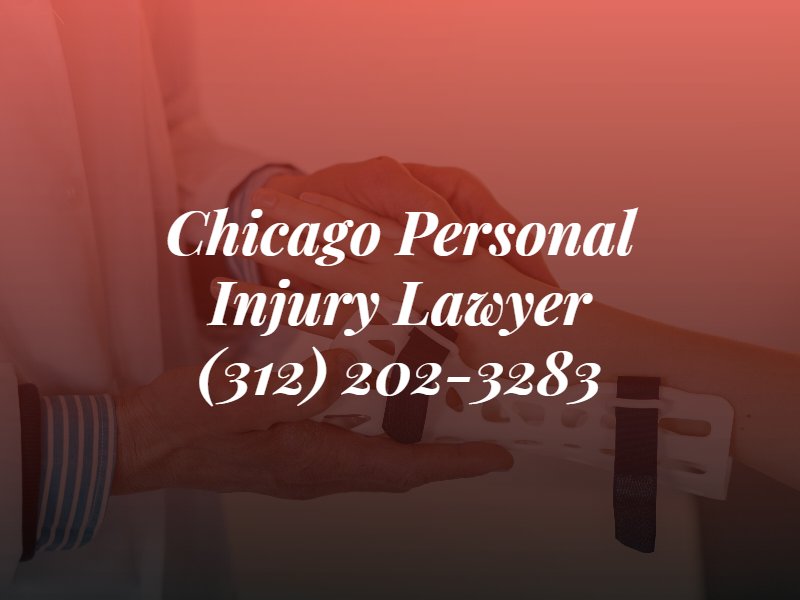 Page Navigation
How Do You Prove a Personal Injury Case in Chicago?
All personal injury claims rely on the presence of negligence. To prove your claim, you have to prove that negligence caused your injuries and you suffered significant losses due to those injuries. Proving negligence requires you and your injury lawyer to collect enough evidence to satisfy the following four elements:
The at-fault party owed you a duty of care at the time of the accident.
The at-fault party breached his or her duty of care to you in some way.
You suffered serious injuries as a direct result of the breach of care.
You can collect damages due to your injuries in your lawsuit.
How you satisfy these elements will depend on the facts of your case. For example, say you fall down a set of broken stairs in your apartment building. Your neighbor tells you she emailed your landlord about the issue a month ago, but never received a response.
You can establish that your landlord owes you a duty of care to keep your property in a safe condition and to respond to repair requests promptly. He breached that duty of care by ignoring your neighbor's request, and your medical records prove your injuries occurred due to you falling down the stairs. Your experienced Chicago personal injury attorney will help you calculate the damages you can claim and the estimated amount of your settlement.
What Can You Recover in a Chicago Personal Injury Claim?
You can collect three types of damages in Illinois personal injury cases: economic, non-economic, and punitive. While economic and non-economic damages may apply in all cases, courts only award punitive damages under specific circumstances.
Economic damages refer to your out-of-pocket, tangible losses. These may include your past and future medical expenses, such as surgeries, disability accommodations, and physical therapy. You can also claim wage-related losses, such as lost wages during your recovery time or loss of future earnings and diminished earning capacity. Property damage and vehicle repairs may also apply.
Non-economic damages involve your mental and physical pain and suffering. They may cover the development of mental illnesses as a result of the accident, such as post-traumatic stress disorder or generalized anxiety disorder. You may also claim these damages for emotional distress, the emotional impacts of disability, disfigurement, and scarring, and a loss of quality of life.
Punitive Damages: Illinois courts award punitive damages to punish the person responsible for your injuries, rather than compensate you for your losses. The at-fault party must demonstrate negligent behavior that is willful and wanton, intentional, or fraudulent. Illinois does not currently impose a cap on the amount of punitive damages you can receive.
How Long Do I Have to File a Personal Injury Lawsuit in Illinois?
It is important to file your personal injury claim by the statute of limitations, the deadline the state of Illinois imposes on all civil lawsuits. If you do not file your claim by its respective statute of limitations, the court will likely dismiss your personal injury lawsuit and you will not receive the settlement you need to recover.
For personal injury lawsuits, you have two years from the date of the accident to file your claim. In some cases, you may not discover your injury until a later date — in these situations, you have two years from the date of discovery to file.
While the statute of limitations may seem like it restricts victims from seeking justice, these rules actually provide a number of benefits for your case. Filing within the two-year period helps increase the chances that your witnesses will be able to provide reliable testimony and your evidence remains available and unharmed.
To ensure you meet the statute of limitations and retain your legal rights to fair compensation, contact the Duncan Law Group as soon as possible. Our attorneys can begin the initial steps to file your claim, helping you meet the two-year deadline.
What Types of Cases Can a Personal Injury Attorney Handle?
With more than a decade of collective experience in civil litigation, the Chicago personal injury attorneys at Duncan Law Group know what it takes to win a difficult case. Whether you were hurt in a motor vehicle accident, injured by your doctor, or bitten by a neighbor's dangerous dog, you can trust that our personal injury law firm will work to secure the level of financial compensation that you need to make a successful recovery.
Learn more about the cases we handle, including:
The above only represents a small number of injury cases the Chicago personal injury lawyers at Duncan Law Group are able to fight on your behalf in. For additional questions about your case and whether our firm can help you recover the necessary damages, contact our personal injury law office directly. A dedicated member of our legal team can answer your important questions in a free consultation!

Common Injuries in Chicago Personal Injury Cases
Personal injury accidents can result in injuries that range from minor to severe. Some of these injuries may require lifelong care and thousands of dollars in medical treatment, while others heal quickly without too much intervention.
Some of the most common injuries in personal injury claims include the following:
Traumatic brain injuries: Any damage to your head can be very dangerous. Whether you suffer a blow to your head, your brain jolts around in your skull, or something penetrates your skull, a traumatic brain injury can develop and lead to life-threatening conditions. This type of injury often results in lifelong complications.
Internal organ damage: If you suffer any injuries to your chest or torso, you can experience life-threatening internal organ damage. For example, your ribs may break and puncture your lung, you may experience blunt trauma to your kidneys, or you may develop internal bleeding.
Spinal cord injuries: Your spinal cord is vital for your brain and body to communicate with each other. If you suffer a spinal cord injury, such as nerve or vertebrae damage, this communication can abruptly end. You may develop permanent paralysis, and experience disruption to your movement, ability to function independently, and ability to feel below the injury site.
Broken bones and fractures: These are some of the most common injuries in a personal injury claim. Depending on the location of the bone and the severity of the fracture, broken bones can require lengthy recovery times and painful treatment. You may also need invasive surgery to repair these fractures.
It is important to seek medical attention as soon as possible after an accident. Not only will this allow you to seek prompt medical care for potentially life-threatening injuries, but seeking treatment will provide you with the medical records necessary to build a strong case.
Comparative Negligence in Chicago Personal Injury Cases
Illinois law also applies a comparative negligence rule when it comes to personal injury settlements. This rule states that if you share a portion of the liability, the court will reduce your award by that amount. If you share 51% or more of the fault, you do not receive compensation at all.
For example, let's say it was an icy day on the date of your accident, and the defense claims you wore inappropriate shoes, contributing to your injury. The court finds you responsible for 10% of the accident and deducts $1,000 from your requested $10,000 settlement. You will only receive $9,000.
After an injury, you probably have a lot of questions. What are my rights as an accident victim? Do I have a personal injury case? Do I really need Chicago personal injury lawyers to file a personal injury claim? How much is my injury case worth? How do I handle negotiations with the insurance company? These are all valid questions with real answers. Call Duncan Law Group today to find the answers that you need during a free case evaluation.
Under the mantra "counselor, advocate, trial lawyer," Mr. Duncan offers sound legal guidance, high-quality advocacy, and effective legal representation. If you need a skilled personal injury lawyer in Chicago, IL, you should not hesitate to schedule a free case consultation with our firm today. Not only have we managed to recover tens of millions of dollars in compensation for past clients, but our lead personal injury attorney has even been selected for a number of prestigious honors – including being named to the Illinois Super Lawyers® list for several years running and inclusion in The National Trial Lawyers: Top 40 Under 40. Bob Duncan is available to schedule in-home meetings so that you can take immediate legal action to pursue fair compensation. To us, you are more than just a case number. We truly care about the well-being of our clients and their loved ones, and we are ready to fight for you.
Take the first step today by contacting our Chicago law office for a free case consultation today at (312) 202-3283!