If you or someone you love has been injured by a dangerous product, it is important to understand that you have rights. With the help of a Chicago product liability lawyer from Duncan Law Group, you can seek compensation from the manufacturer, retailer, or distributor responsible for putting you in harm's way. Our personal injury law firm has already recovered tens of millions of dollars on behalf of injured victims, so you can trust that we know what it takes to win a difficult product liability case.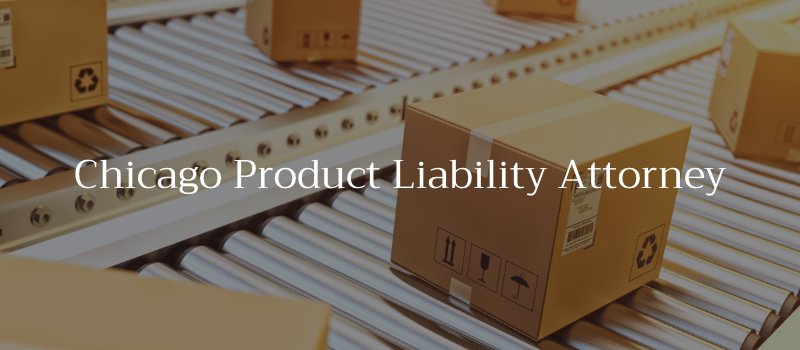 Page Navigation
What is Product Liability?
All companies have a responsibility to ensure that their products are safe to use and that customers receive adequate warnings for foreseeable risks. Unfortunately, not all entities uphold this standard and as Chicago personal injury lawyers, we hold negligent companies accountable.
There are three types of product liability claims you can file under Illinois law: manufacturing defect claims, design defect claims, and failure to warn claims.
Manufacturing defect claims allege that the consumer product suffered damage at the manufacturing plant that caused the defect.
Design defect claims allege the defect is inherent in the product's dangerous design.
Failure to warn claims allege the manufacturer failed to provide adequate instructions or warnings about how to use the product properly.
From pharmaceutical drugs and medical devices to children's toys and automobile parts, thousands of products make their way into American homes every day – many of which were, unfortunately, not adequately tested for safety or marked with necessary warning labels. It is for this reason that a significant number of consumers are hospitalized or seriously injured as a result of defective and faulty products each year. In fact, statistics show that approximately 220,000 children are injured by defective toys annually, while at least 20,000 people are killed by an array of faulty products every year.
Types of Product Liability Claims We Handle in Chicago
Due to the complex nature of product liability claims, it is important o ensure that you have an experienced Chicago product liability attorney on your side when pursuing compensation. Fortunately, Duncan Law Group is well-equipped to represent a wide range of product liability cases.
Get in touch with our Chicago personal law firm if you were injured by any of the following:
Pharmaceutical drugs
Medical devices
Automobile parts
Car seats
Children's toys
Household appliances
Construction equipment
Cosmetics / beauty products
What Damages Can I Recover in a Product Liability Accident?
Through an Illinois product liability lawsuit, you have the right to hold the manufacturer accountable for the economic and non-economic losses you sustained due to the defective product. Economic damages refer to your tangible, financial losses, such as medical expenses. On the other hand, non-economic damages involve the physical and emotional pain and suffering you endured due to the product defect.
Common types of damages available in an Illinois product liability claim include the following.
All past and future medical expenses, including hospitalizations, surgeries, chemotherapy, medication, and regular checkups
Lost wages during your recovery period and the loss of future earnings, if your injuries prevent you from returning to work
Property repairs and replacements for any damage that occurs due to the defective product
Disability accommodations, such as live-in care, home and vehicle modifications, and mobility equipment
Specialized treatments such as rehabilitation and physical therapy
Physical pain and suffering, such as permanent disability, disfigurement, chronic pain, and scarring
Emotional pain and suffering, such as mental anguish, post-traumatic stress disorder, depression, anxiety, and loss of quality of life
To recover maximum compensation in your product liability claim, it is important to identify all of the damages that you may qualify for. The Chicago defective product attorneys at Duncan Law Group can conduct an in-depth investigation into your case and create an accurate estimate of your settlement on your behalf. We can also evaluate any settlement offers you receive to ensure that you do not accept an insufficient award.
How Long Do I Have to File a Product Defect Claim in Chicago?
All civil lawsuits in the state of Illinois are subject to a deadline known as the statute of limitations. This rule states that you must file your product liability claim within two years of the accident if you suffered a personal injury due to the defect. If you are seeking damages for property damage, not injury-related losses, you have five years from the date of the incident to file your claim. If you do not file within this time period, the court will dismiss your case and you will not receive compensation.
There are certain exceptions to this rule. For example, if you do not discover your injuries until a later date, your case may be subject to the discovery rule. This rule states that if you could not have reasonably known about your injuries until a later date, the statute of limitations clock will begin running on the date of discovery.
However, this may not apply to your product liability case; the discovery rule is most common in medical malpractice lawsuits and defective drug claims. To determine your statute of limitations and preserve your right to recovery, speak to a Chicago product liability attorney at Duncan Law Group as soon as possible following your injury.
Who is Liable for a Defective Product in Chicago?
If you suffer a serious injury due to a product defect, you can hold any company in the line of distribution accountable for your serious injuries. This may include the manufacturer, the wholesaler, the retailer, and the distributor.
Identifying the at-fault party is one of the most important steps to take in your claim. Your product liability attorney from Duncan Law Group can conduct an in-depth investigation into your injury, consulting with expert witnesses and examining all pieces of evidence, to determine who you can hold liable. Once you identify the defendant or defendants and file your claim, you will then need to prove that you have a legal right to damages.
Illinois Product Liability Laws
According to Illinois product liability laws, you must establish the following three elements to secure compensation in your products liability lawsuit.
The product in question had an unreasonably dangerous defect that caused your injury.
The defect caused your injury even though you used the product in the way the manufacturer intended at the time of the accident.
The defect existed in the product when it left the manufacturer's control.
What Are Your Rights as a Consumer in Chicago When it Comes to Product Liability?
Tires, brakes, airbags, accelerators and seat belts, which are inherently dangerous due to design flaws and manufacturing errors, are all common examples of defective products. Dangerous pharmaceuticals that result in serious side effects like strokes, suicidal thoughts, heart problems, respiratory ailments, various forms of cancer, and other debilitating health damage are similar examples. Every year, warnings and product recalls concerning such dangerous products are published by the Food and Drug Administration (FDA) and other government agencies due to consumer reports of adverse effects and problems with such consumer products.
For example, the FDA now requires drug companies to mark antidepressants with a "black box" warning to the effect that the drugs double the incidence of suicidal behavior.
Common Injuries from Defective Products
Defective products can cause serious, painful medical conditions. These injuries often require immediate medical attention and may lead to life-threatening complications without prompt treatment. At Duncan Law Group, we see certain types of injuries in defective product claims more often than others. Some of the most common types of defective product injuries include the following:
Choking injuries: Children's toys and other products may have small parts that break off easily, posing a choking hazard for infants and young children. Without prompt medical attention, choking can lead to oxygen loss, brain damage, and death. Manufacturers must clearly state if certain toys are meant for older children and warn parents of potential choking hazards.
Burn injuries: Kitchen appliances, hot hair tools, and other household electronics may have faulty wiring and other defects inside of them. As a result, these products can catch fire or short circuit, causing severe and painful burn injuries to consumers. Burn injuries are painful and may leave permanent scarring or nerve damage.
Bone fractures: Products may break unexpectedly or explode near a person, leading to accidents that cause broken bones. For example, a person sitting on a patio chair may fall when the chair breaks under him or her, breaking his or her hip. Common types of broken bones include arms, legs, wrists, hands, feet, ankles, hips, and ribs.
Brain damage: Severe brain damage and head trauma can occur with dangerous products. A dangerous medication may trigger cardiac arrest, cutting off oxygen flow to the brain. A faulty bicycle can malfunction and crash, causing the cyclist to suffer a concussion. Any type of head injury can lead to permanent complications in speech, memory, movement, and other functions, and many people die of brain injuries each year.
If you have been faced with medical bills and time spent away from work as a result of your injuries, you should not hesitate to get in touch with the Chicago product liability attorneys at Duncan Law Group as soon as possible. Our Chicago personal injury law firm can put more than a decade of experience to work for you, so you can rest assured that your future will be in competent hands when you turn to us for help. If you lost a loved one due to a defective consumer product, we can also help by exploring a wrongful death lawsuit.
You can get started today by setting up a free initial consultation with our Chicago product liability lawyers, whether you would like to contact us online or over the phone at (312) 202-3283. We help our clients explore their legal options and opportunities to recover financial compensation. In fact, our lead Chicago attorney's experience in the field of personal injury law has even earned him a place on the Super Lawyers® Rising Stars™ list.