Unfortunately being struck by a motor-vehicle, while walking, especially in urban areas in all too common in Chicago. If you have been injured in a pedestrian accident, our Chicago pedestrian accident lawyers are here to fight to fight for you.
Being involved in a pedestrian accident can leave you fighting a serious and life-changing personal injury. Working with a pedestrian accident attorney in Chicago can help you fight back and recover the compensation you need to recover. Find out more by calling our Chicago office today.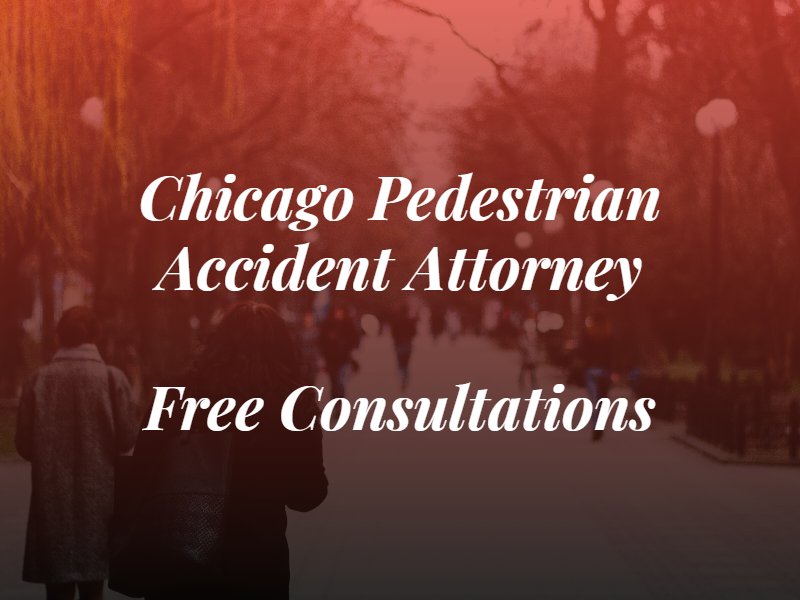 Navigate This Page
Why Hire Duncan Law Group For Pedestrian Accidents in Chicago?
At Duncan Law Group, a Chicago pedestrian accident attorney can provide capable legal representation in the wake of a negligence-based pedestrian accident. Our law firm focuses its practice on personal injury law and has represented countless clients in all types of injury scenarios where negligence or wrongdoing occurred. Whether through negotiations with an insurance company or courtroom litigation, the firm has achieved consistently favorable results for clients who have been injured or lost a family member.
Some of the pedestrian accident cases that our Chicago personal injury lawyers have handled include:
$1,800,000.00 settlement – pedestrian was hit by a tractor-trailer
$550,000.00 settlement – pedestrian was hit by a car
$150,000.00 verdict – pedestrian was hit by a CTA bus
$100,000.00 settlement – pedestrian was hit by a car
Understanding Your Legal Options in Chicago After a Pedestrian Accident
Pedestrians, when struck by a car, SUV, motorcycle, bus, or truck, have an extremely high risk of suffering a catastrophic injury or even death. Even at relatively low speeds, an impact between the human body and a vehicle weighing several thousand pounds can be disastrous. Pedestrians that are involved in traffic accidents can be hurled into the air and crushed by the force of such an impact, resulting in multiple bone fractures, internal organ damage, back injuries or even brain and spinal cord injuries.
It is not uncommon for extensive medical care and permanent disability to follow a pedestrian crash. Whether this is the fault of a motorist or another third party, the injured pedestrian or surviving family members have the right to demand financial compensation by filing a personal injury or wrongful death claim.
What Type of Compensation Can I Recover for Injuries Sustained in a Pedestrian Accident?
With the help of an experienced pedestrian injury lawyer in Chicago, you can pursue damages for all of the economic and non-economic losses that you have suffered.
Some of which may include:
Reimbursement for all of your medical expenses and medical bills
Reimbursement for lost wages
Reimbursement for your loss of future income
Compensation for your physical pain and suffering
Compensation for emotional distress / mental anguish
How Long Do You Have to File a Claim After a Pedestrian Accident?
Even though you may suffer injuries in your pedestrian accident, there will come a time where you will no longer be eligible for financial compensation. Illinois's statute of limitations places time limits on personal injury lawsuits, and if you wait until after the deadline to file, the court will likely dismiss your pedestrian injury claim.
You have two years from the date of your pedestrian accident to file your claim. There is a discovery rule that extends filing deadlines if the victim did not discover his or her injuries until a later date, but this situation is not common in pedestrian accident claims. However, the court may pause the deadline if you were under the age of 18 or mentally incompetent at the time of the accident, beginning the clock when you turn 18 or the period of incompetence ends.
While statutes of limitations may seem restrictive to accident victims, they play important roles within the civil lawsuit process. First, these deadlines protect defendants from the indefinite threat of a lawsuit. Second, statutes of limitations ensure that the plaintiff files when the evidence is freshest and witness memories are still reliable.
What to Do if You Have Been Hit by a Car in Chicago, IL
Accidents between motor vehicles and pedestrians can be very dangerous, leading to serious injuries and even death. It is important to know what to do after an accident happens to avoid further injuries and collect evidence for your future accident case.
If you have serious injuries, your top priority is your safety. Move to safety and call 911 immediately or ask someone in the area to call for you. Remain at the scene until law enforcement and emergency medical services arrive and go to the hospital immediately. Remember to save all records of your visit — these documents will become important evidence in your future personal injury claim. You should always seek medical attention regardless of your injuries, even if you feel unhurt. You may have underlying injuries you are unaware of, and failing to go to the doctor can harm your future claim.
If you can move around the accident site safely and without further injury, you can take additional steps to preserve evidence for your pedestrian accident case.
Call the police and report the crash to law enforcement. This police report will be important evidence for your future claim, since the officer will write down his or her observations about the crash and give an opinion about who was at fault.
Take photographs of important pieces of evidence. Photograph any visible injuries, vehicle damage, and the accident scene. If there are other pieces of evidence you feel may be important to your case, photograph them as well.
Obtain contact information. Gather information from the other driver, along with his or her insurance company details. If there are any eyewitnesses around the area, ask them for their contact information too. These witnesses can provide valuable testimony on your behalf.
After the accident, write down as many details as possible. In a journal, list the events leading up to the crash, the driver's characteristics and behavior, and other important facts you can remember. Once you seek medical attention, contact a pedestrian injury attorney from Duncan Law Group as soon as you can. Your Chicago pedestrian accident lawyer will be able to file your claim and help you handle any conversations with the insurance company.
Pedestrian Accident Statistics
The majority of pedestrian accidents occur in urban areas. These can happen through many forms of negligence on the part of drivers, including speeding so as not to be able to stop in time, disobeying stop signs and traffic signals, not being alert at intersections where pedestrians cross, passing school buses, and around school zones where children may dart out into traffic, or driving while under the influence of drugs or alcohol. According to statistics from the National Highway Traffic Safety Administration, one-fifth of children aged 5 to 9 who are killed in traffic accidents are pedestrians.
According to Chicago's Department of Transportation, pedestrian fatalities decreased from 41 in 2018 to 40 in 2019. It was discovered:
Almost 70 percent of the 35 pedestrians who were killed in traffic were hit by the driver of an SUV or other large vehicle
40 percent of pedestrian fatalities were hit-and-run cases
Roughly one third of the people who were killed while walking were in a marked crosswalk
When Should You Contact a Lawyer After a Pedestrian Accident?
Waiting too long to file a pedestrian accident claim can harm your future recovery. To ensure you understand your statute of limitations and file your lawsuit before the deadline, contact a pedestrian accident attorney at Duncan Law Group as soon as possible. Your lawyer will evaluate the circumstances surrounding your accident case, launching an initial investigation into your accident and drafting a complaint.
You can trust in the skilled pedestrian accident lawyers at Duncan Law Group to provide the aggressive, experienced, and knowledgeable legal representation that you deserve after a pedestrian accident. Having already recovered tens of millions of dollars on behalf of past clients, we truly understand what it takes to win a difficult case. In fact, Lead Attorney Bob Duncan has been recognized by a number of professional organizations for his competency in personal injury law – including Super Lawyers® and The National Trial Lawyers Association.
Get started today by scheduling a free consultation with our law firm in Cook County!