When your trust as a patient is violated, you may have justification to file a claim of medical malpractice with the help of a Chicago medical malpractice lawyer from Duncan Law Group.
When a doctor or healthcare professional deviates from acceptable standards of care, patients can suffer serious injuries or complications. In some cases, their medical negligence can result in health damage or even death. You may be suffering pain, discomfort, disability, and emotional distress.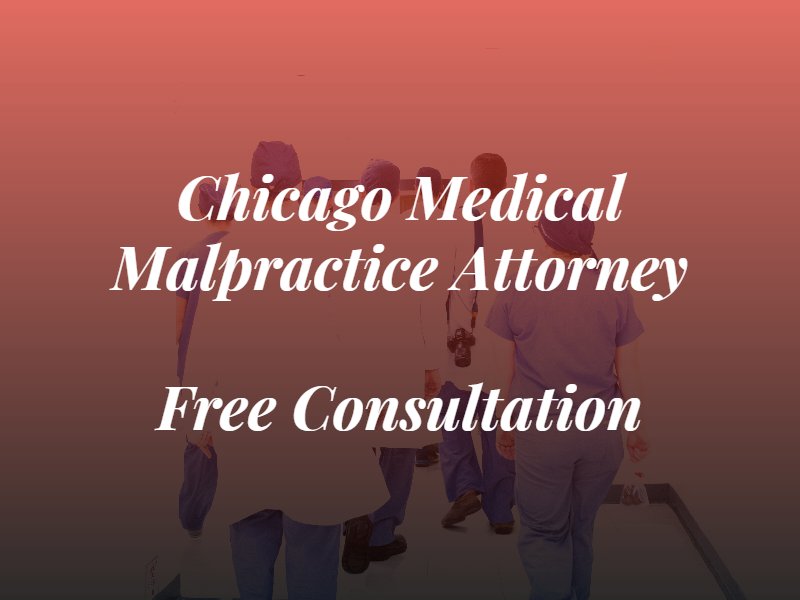 Page Navigation
What is Medical Malpractice?
Medical malpractice occurs when a healthcare professional deviates from the accepted standard of care. That means that whoever is responsible for your injuries, from doctors to nurses to every other specialist or employee who provided treatment to you, did not act in a way that a similarly trained and reasonable professional would have under the same circumstances.
For example, say that you visit a doctor after complaining that your chest hurts and you are coughing up blood. These are hallmark signs of lung cancer, but instead of testing for the medical condition, the doctor diagnoses you with pneumonia. You visit another doctor or medical provider later, who runs the appropriate test after evaluating your symptoms, and you receive a diagnosis for advanced stage lung cancer.
As you can see from your second visit, a reasonable doctor would have run these tests in the first place — but the first professional you visited did not. Your experience would likely qualify for medical malpractice litigation, and you can use testimony from expert medical witnesses and your medical records to establish your right to full compensation with the help of a Chicago personal injury lawyer.
What Damages Can You Recover in a Medical Malpractice Case?
Illinois law allows you to collect economic and non-economic damages in medical malpractice cases.
Economic Damages
Economic damages refer to your monetary losses due to the malpractice, such as additional medical expenses, disability accommodations, lost wages and loss of future earnings, and property damage, if applicable. You can usually prove these damages through receipts, medical bills, and medical records.
Non-Economic Damages
Non-economic damages, on the other hand, involve the intangible, emotional losses you sustained. These may include the development of mental illnesses such as depression, anxiety, and post-traumatic stress disorder. You can also claim non-economic damages for emotional anguish, loss of quality of life, scarring, disfigurement, and other subjective losses.
Punitive Damages
In some cases, you may receive additional compensation in the form of punitive damages. While the purpose of compensatory damages is to help you recover from your injury and subsequent losses, punitive damages intend to punish the at-fault party. Courts only award punitive damages if you can prove that the defendant acted in a way that was fraudulent, intentional, or willful and wanton.
Prior to 2010, the state imposed a limit on the amount of non-economic damages you can collect in your case. However, the Illinois Supreme Court case LeBron v. Gottlieb Memorial Hospital declared this practice unconstitutional, and Illinois law no longer caps the amount of non-economic damages you can claim.
Common damages in medical malpractice claims include the following.
All medical expenses associated with the malpractice
The cost of your future medical care
Lost wages and loss of future earnings
Home and vehicle disability accommodations
Physical and psychological therapies
Emotional distress and mental anguish
Post-traumatic stress disorder
Loss of quality of life
Chronic pain
Disability and disfigurement
Funeral and burial expenses, if applicable
How Much is my Medical Malpractice Case Worth?
Calculating the value of your medical malpractice claim can be difficult alone. You will need to collect all tangible evidence detailing your expenses, such as bills, invoices, and receipts, as well as evidence supporting the physical and emotional harm you suffered. You will need to know how to estimate non-economic losses, and if you believe your case qualifies for punitive damages, you will need to gather evidence to prove that the at-fault party's conduct fell into the state-defined guidelines.
Hiring a Chicago medical malpractice attorney from Duncan Law Group can help you determine the full value of your estimated settlement. Knowing how much personal injury claims are worth provides extra leverage during the negotiation and settlement processes. Your medical malpractice lawyer can supply important resources to calculate your damages, including medical experts who can advise on your care plan, economic experts who can calculate your long-term medical treatment costs, and common non-economic damage formulas.
How Long Do You Have to File a Medical Malpractice Claim in Illinois?
In Illinois, all civil lawsuits, including medical malpractice cases, must follow the statute of limitations. Each type of case has a specific statute of limitations that defines when you must file your claim or the court will dismiss your case.
You have two years from the date you knew or should have reasonably known you were a victim of medical malpractice to file your claim. However, if you did not discover your injury or worsening illness until a later date, the state will extend this deadline. In these situations, Illinois gives you no more than four years from the date of the malpractice to file your claim.
If you were under the age of 18 when you experienced the malpractice, the state extends the statute of limitations even further. You must file your case within eight years of the malpractice or before your 22nd birthday, whichever comes first. You cannot file your claim past the date you turn 22.
Filing within the statute of limitations ensures that most of your evidence is fresh, your witnesses are available to testimony, and you retain your right to compensation. Contact the medical malpractice lawyers at Duncan Law Group today to begin your first steps and ensure you meet this deadline.
What to Do If You Experience Medical Malpractice in Chicago
If you believe you are the victim of medical malpractice, it is important to seek help as soon as possible. Take the following steps to protect yourself, preserve evidence, and begin exploring your legal options.
Find another doctor as soon as possible.
Further medical negligence can lead to additional injuries, and you will need a second doctor to correct the damage and to provide a second medical opinion about your injuries.
Save and request all of your medical records.
Save everything you receive from every doctor, and if you do not have all of your records, request them as soon as possible. Make sure to request these records before filing your claim so that the medical professional does not try to change your information.
Keep a journal of your symptoms and your general health.
Writing down the impact the malpractice is having on your health will help you detail the harm you are suffering as a result of the malpractice, which you can use as evidence in your claim. Each day, write down the date, any symptoms you experience, and how the malpractice is affecting your life.
Contact a medical malpractice attorney from the Duncan Law Group as soon as possible.
Medical malpractice lawsuits are complex and involve high amounts of damages, and you want to ensure you are on the best path to maximum compensation for your injuries. Your Chicago medical malpractice lawyer has the skills, resources, and experience you need to build a compelling case for your medical malpractice suit.

Common Medical Malpractice Cases in Chicago
Testimony from other medical professionals may be able to shed light on medical error or failure to diagnose. Ensure that you're getting the experienced legal help that you need from a medical malpractice lawyer in Chicago by contacting Duncan Law Group today. Our firm is passionate about obtaining the compensation that injury victims deserve. We also confer with highly respected experts throughout the country, using professional insight and knowledge to review your claim and give strength to your legal strategy. We can help you hold negligent medical professionals, hospitals, and their insurance companies accountable for their wrongdoing.
Some of the most common incidents of medical malpractice include:
Cerebral Palsy
Misdiagnosis
Emergency room errors
Medication errors
Brain damage
Misread X-rays or tests
Anesthesia errors
Proving Fault in a Chicago Medical Malpractice Case
If you were seriously injured or your condition was worsened at the hands of a medical professional, you may be wondering whether or not you have the right to file a medical malpractice claim. Every personal injury case is different, so it is highly recommended that you discuss the specific nature of your injury with an experienced Chicago medical malpractice lawyer from Duncan Law Group. Our law firm will examine the cause of your injuries, as well as the damages that you have suffered, in order to determine whether or not you have a valid claim.
In any medical malpractice claim, you must be able to prove that:
A doctor-patient relationship actually existed
Your doctor deviated from acceptable medical standards of care
Your doctor's medical negligence is linked to your worsened condition
You have suffered actual physical damages
Contact a Chicago Medical Malpractice Lawyer Today
After suffering a serious injury at the hands of a negligent medical professional, you should not hesitate to fight for the level of compensation that you deserve. The legal team at Duncan Law Group has been representing wrongfully injured victims throughout Chicago for more than a decade – during which we have managed to recover millions of dollars for our clients – so you can trust that we are well-equipped to manage your case. Don't wait any longer to pursue justice for the injuries you've suffered.
In severe negligence cases, you may need corrective surgeries or future medical treatments. If you are a victim of an irresponsible doctor or medical provider, a Chicago medical malpractice lawyer from our law firm is ready to hold your health care providers accountable. In just 15 years, our lead, Attorney Bob Duncan has been able to recover millions of dollars for injury victims. He has been included in the Illinois Super Lawyers® Rising Stars℠ for several years, boasting a proven track record of success.
Our personal injury law firm's successful case results include:
$1,000,000.00+ settlement: mesothelioma case
$350,000.00 settlement: neurosurgical malpractice
$210,000.00 settlement: nursing negligence
$175,000.00 settlement: podiatric malpractice
$75,000.00 settlement: medical negligence
We are ready to fight for you during this difficult time and help you through a medical malpractice suit. Contact Duncan Law Group today at (312) 202-3283 to talk with one of our Chicago medical malpractice lawyers, or fill out a free personal injury case evaluation form.