When you have suffered from a burn injury in Chicago, you need an experienced Chicago burn injury lawyer to take your claim to court. The legal team at Duncan Law Group can examine the cause of the fire, analyze the origin, and show how the fire was the result of another person's negligence.
Get started by calling our Chicago personal injury legal team to learn how we can help.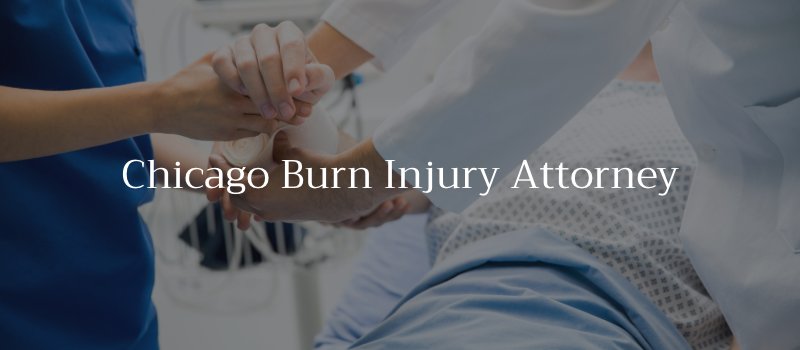 Page Navigation
How Can a Chicago Burn Injury Lawyer Help?
At Duncan Law Group, a Chicago personal injury lawyer can provide the skills and guidance needed to help you obtain a full and fair settlement of damages. Our law firm is devoted to personal injury law and has a successful track record in achieving positive results for burn injury victims across Illinois and nationwide.
Since fire is dynamic, and evidence proving fault can be damaged during the fire and exhaustion process, you need a personal injury law firm that knows where to look and how fault can be proven otherwise. Where an individual has died from burn injuries caused by negligence, family members or loved ones may seek damages through a wrongful death action.
What Compensation Can I Recover for my Burn Injuries?
Depending on the severity of the injury, burns can result in extensive medical expenses, painful physical symptoms, and long-term psychological trauma. Through a burn injury lawsuit, however, you have the right to recover compensation related to the economic and non-economic impact of your injuries.
Economic and Non-Economic Damages
Economic damages refer to your tangible financial losses, while non-economic damages involve your physical and emotional pain and suffering.
You can hold the at-fault party liable for many types of damages related to your burn injuries, including the following:
All past and future medical expenses related to your burn injury, including surgical procedures, prescription medication, and hospitalizations
Any long-term treatment costs that you need to recover from your injuries, including rehabilitation and physical therapy
Lost wages during your recovery time and loss of future earnings if your injury prevents you from returning to work
Damages related to the emotional impact of your injury, such as mental anguish, emotional trauma, depression, anxiety, and the loss of quality of life
Damages related to the physical impact of the burn injury, such as pain, discomfort, disfigurement, scarring, and disability
Repairs and replacements for any property damage that you sustained in your burn accident
The cost of disability accommodations, such as mobility equipment, live-in care, and modifications to your home or vehicle
Punitive Damages
In addition to economic and non-economic damages, you may also qualify for a third category of compensation known as punitive damages. This form of compensation is designed to punish the at-fault party for intentional, fraudulent, or willful and wanton conduct that caused your burn injury. For example, a person who intentionally sets fire to your home would likely be liable for punitive damages in addition to your economic and non-economic losses.
Your Chicago burn injury lawyer from the Duncan Law Group can help you identify the types of compensation you may qualify for. Your burn injury attorney can also help you gather the evidence you need to prove your right to damages, such as medical bills and records, correspondence, journal entries, paystubs, and testimony from expert witnesses such as medical professionals.
Why Should You Hire a Burn Injury Lawyer in Chicago?
If you have sustained a burn injury due to another person's negligent actions, you need a burn injury lawyer on your side. Burn injuries can be very painful and require significant medical care, and it can be difficult to navigate a lawsuit or insurance claim while recovering from this type of harm. A Chicago burn injury attorney from the Duncan Law Group will handle all aspects of your injury case on your behalf, allowing you to focus on treatment instead of complex litigation.
Additional benefits of hiring an attorney for your burn injury claim include the following:
Your lawyer will have the skills and resources necessary to conduct a full investigation into your accident and craft a compelling case for your right to compensation.
Your attorney will have access to expert witnesses who can evaluate your individual burn injury case and provide valuable testimony on your behalf.
Your lawyer will be able to handle all discussions and negotiations with the insurance company on your behalf, advocating for your best possible outcome during each stage of your case.
Your Chicago burn injury attorney can explore all pathways to compensation, accurately calculate your ideal award, and evaluate any settlement offers you receive to ensure that they meet your needs.
How Long Do I Have to File a Burn Injury Lawsuit?
If you have sustained a burn injury due to someone else's negligence, you have the right to file a lawsuit against him or her. However, you will need to act quickly if you want to preserve your right to compensation. All civil lawsuits in the state of Illinois are subject to a rule known as the statute of limitations, which sets a filing deadline for certain personal injury claims. If you do not file your personal injury claim within the appropriate timeframe, the court will likely dismiss it.
You have two years from the date of your injury to file a burn injury lawsuit in Illinois. While there are some exceptions to this rule, they are not always common in burn injury cases. As soon as you realize that you may qualify for legal action, speak with a Chicago burn injury lawyer at Duncan Law Group to identify your filing deadline.
Common Causes of Burn Injuries
In many cases, burn injuries occur due to the negligence of another person or entity. In these situations, you may be eligible to file a personal injury lawsuit against the party responsible for your accident. Common causes of burn injuries that may qualify for legal action include the following:
If you have suffered any type of burn injury due to another person's actions, you may qualify for financial compensation. To determine your case eligibility and understand your legal options in Cook County, speak to a Chicago trial lawyer at Duncan Law Group as soon as possible.
Types of Burn Injuries
There are many different types of burn injuries you can sustain. When you seek medical attention for your burn, your doctor will classify your injury as a first, second, third, or fourth-degree burn based on the extent and severity of the damage. This diagnosis will help you receive the appropriate treatment and better understand your prognosis.
Your doctor will also want to identify the source of the damage. There are many different types of burn injuries you can sustain, which may include the following:
Thermal Burns
This type of burn occurs when you come into contact with a very hot object, such as open flames, scalding water, or very hot metals. As soon as you touch these objects, your skin cells begin to die and you can sustain severe physical pain, scarring, and even nerve damage.
Cold Burns
Hot objects are not the only sources of burn injuries—cold objects and weather conditions can also cause significant damage. Also known as frostbite, cold burns occur when your skin becomes frozen after being exposed to cold temperatures for a long period of time. This type of injury can occur due to weather exposure or when touching a cold object.
Chemical Burns
When you come into contact with a very strong and corrosive chemical, your skin can suffer severe damage. Strong acids, detergents, or solvents can burn the skin when touched. Most of these injuries affect the arms, legs, face, and eyes. In addition to redness, irritation, and burning at the injury site, you may also experience a cough, shortness of breath, and other symptoms due to chemical exposure.
Radiation Burns
You can sustain a burn injury if you are exposed to radiation. Sunburns are a type of radiation burn, but you can also sustain this injury due to x-ray exposure or radiation therapy during cancer treatment. Radiation burns can permanently change the appearance of the skin.
Friction Burns
This type of burn injury occurs when you come into contact with a hard object that rubs off an outer layer of your skin. Friction burns are especially common in motorcycle and bicycle accidents, or in severe car accidents where you are thrown from the vehicle and come into contact with the road. This type of injury is a mix between a scrape and a thermal burn.
Electrical Burns
This type of injury occurs when you come into contact with a live electrical current. In addition to affecting your skin, you can also sustain severe tissue and organ damage as the electricity travels through your body.
Burn Injury Treatment
Types of treatment for burn injuries may include the following.
Pain and anxiety medications

Burn creams and antibiotic ointments

Tetanus shots and drugs to fight infections

Specialty wound dressings

Water treatments, such as ultrasound mist therapy

Fluids to prevent dehydration and organ failure

Occupational and physical therapy

Plastic surgery and skin grafts

Intubation to assist with breathing difficulties

Feeding tubes if your injury prevents you from consuming food

Treatment to promote blood circulation
Burn injuries are among the most painful types of injuries, both physically and emotionally. Severe burns often require extensive hospitalization and medical care, multiple surgeries and skin grafts, and complex medical treatments not only for the burned areas but for the entire body. Even after all of the painful medical attention a burn victim must receive, they may will likely also wear permanent physical scars that can have a drastic emotional effect.
A serious burn injury can compromise the immune system, lead to respiratory problems, organ dysfunction, and infection. Deep burns may not only affect the skin but also the muscles, tissues, and even bones. Beyond this, those severely burned may suffer loss of the burned areas or limbs, amputation, scarring, and disfigurement. Medical costs can be staggering, requiring months and years for a recovery.
It is vital to seek emergency treatment as soon as possible after a burn injury. If left untreated, you can develop severe complications, such as dehydration or infections, that can be life threatening. If you plan to file a lawsuit or insurance claim after your accident, your medical records will become vital pieces of evidence for your injury case and failure to seek treatment can affect your ability to recover compensation.
If you sustain a severe burn injury due to someone else's negligent actions, you may have grounds for financial compensation. In these situations, trust the Chicago burn injury attorneys at Duncan Law Group to fight for your right to recovery. Learn more about your options as a burn victim and find out how much your case may be worth in compensation by filling out the free case evaluation form to contact Duncan Law Group directly.