No one should be harmed by someone else's pet. To hold the pet owner responsible for their negligent actions and their inability to protect you from their pet, speak with a Chicago dog bite attorney from Duncan Law Group for a free evaluation of your case.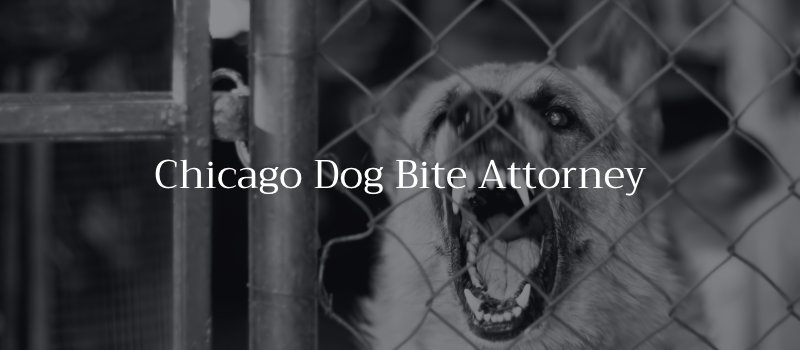 According to the Illinois law, dog owners are responsible for any civil damages caused by their pets. The Animal Control Act states that the owner of a dog that attacks, attempts to attack, or injuries another person without provocation would be responsible for compensating the victim. According to this statute, dog owners are liable for their pets' actions, even if the pet is not a dog. If you suffered an injury or dog bite because a dangerous dog attacked you, you may be entitled to recover financial compensation for this injury.
What is Strict Liability in Chicago Dog Bite Injury Claims?
More than half of the states in America assume that dog owners are responsible for the actions of their pets. Illinois is one of these states. The term "strict liability" means that the dog owner is responsible for the accident, even if the victim does not prove that the owner caused the attack – the law presumes that liability falls on the dog owner. Additionally, the dog does not need to have a history of aggression in order for the victim to collect damages, as is true in numerous other states.
To recover damages, you must be able to demonstrate that:
You suffered an injury caused by the dog
The defendant had control of the dog / is the dog's owner
You did not provoke the attack or dog bite
Wondering if you may be able to bring a personal injury charge against a pet owner? Our Chicago dog bite lawyers can help! Duncan Law Group, a premier Chicago personal injury law firm, can help examine the details of the case to prove that you are not at fault for what happened to you and follow the necessary procedures to take legal action on your behalf.
What to Do After a Dog Bite in Chicago?
The moments after a dog attack can be disorienting. You may not know who the dog belongs to or where it came from, you may not know the extent of your injuries, and you may not know what you can do to protect your future recovery. However, there are steps you can take to stay safe, preserve evidence, and seek necessary help.
If you are the victim of a dog attack or dog bite, your top priority is your own safety. Stay as calm as possible — do not try to catch the dog or provoke it further, and get to a safe place as soon as you can. Once you are a safe distance away from the animal, take the following steps to protect your dog bite claim.
Identify the Dog and its Owner
It is important to know who was caring for the animal when it attacked you so you know who to hold liable in your dog bite injury claim. You will also need to know the dog's medical history to avoid rabies vaccinations. As soon as you are safe, identify the owner and collect his or her name, address, phone number, and dog vaccination records.
Call 911
This will bring police and emergency medical services to your location. Speak to the responding officer and tell him or her how the accident happened. Be as honest as possible — if you do not know the answer to a question, say that you do not know. Afterward, ask for the officer's name and badge number so you can find the police report later.
Seek Medical Attention
You should always visit a hospital after the attack, even if you do not feel hurt or believe your injuries are treatable at home. Medical care helps you avoid infections and other complications common with dog bites. Visiting a hospital establishes a record of your injury that you can use in your future claim, and your attorney will need to understand your injuries to determine which damages you qualify for.
Clean the Wound
Dog bites can easily result in infections, especially if the dog did not have the proper vaccinations. As soon as you can after the attack, wash your puncture wound with mild soap and warm water for at least 10 minutes. If you can, apply a clean cloth to stop the bleeding, and wrap the wound in a sterile bandage. After this initial cleaning, visit a hospital immediately to treat the puncture wound and receive antibiotics.
Collect as Much Evidence as Possible
Photograph your injuries and the area where the attack happened. Write down a summary of facts about the attack so that you do not forget any important information, including dates, approximate times, and locations. If there are any witnesses who saw the dog attack you, collect their contact information so you can ask them to testify in your dog bite case. Also keep record of all medical bills and expenses and lost wages from the injury.
Contact a Dog Bite Attorney
Handling dog bite lawsuits alone can be difficult, especially if you have a recent injury. Your Chicago dog bite lawyer can help you identify your strongest pathways to maximum compensation, advocate for your best interests during trial and negotiations, and conduct a full investigation into the attack to establish the owner's liability. As soon as you receive medical treatment for your injuries, contact a Chicago dog bite attorney.
How Often Do Dog Attacks Occur In the U.S.?
By nature, children are curious and trusting. Because of this, they are more likely to approach a dangerous animal. Research suggests that children between the ages of five and nine are more likely to suffer dog bites than adults. To avoid these types of accidents, parents should never leave their children unattended with a strange dog, and pet owners should never allow their animal to be near a child if it is not safe.
According to the U.S. Centers for Disease Control and Prevention (CDC):
Approximately 4.5 million people are injured in dog attacks every year
Less than 900,000 of victims seek immediate medical attention
More than 30,000 dog bite victims require reconstructive surgery
Approximately 15 to 20 people are killed by dogs in the U.S. each year
If your child has experienced a personal injury resulting from an animal bite, you may be able to hold the dog owner responsible. Teaching children to be cautious about animals is not always enough when a pet owner does not take the proper steps to control their animal. Our Chicago personal injury lawyers can help you investigate the actions and let you know of the proper steps you can take to ensure you are compensated for the injury.
Contact Our Dog Bite Attorneys in Chicago Today
If you suffered an unprovoked dog attack, we encourage you to speak with a Chicago dog bite injury lawyer from Duncan Law Group today. Our legal team has recovered tens of millions of dollars for past clients and is ready to put this experience to work for your dog bite case. We believe that no bite victim should have to shoulder the financial burden of an injury alone – especially when another person was at fault – so you can trust that we will fight diligently for the maximum amount of financial compensation available in your dog bite case.
Reach out to our Chicago law firm today by calling at (312) 202-3283 or filling out a free injury case evaluation form online.